We build, optimize and implement proven digital marketing strategies that help great divorce attorneys get
more cases

.
Digital Marketing for Divorce Attorneys
Law Firm Lead Rocket helps divorce attorneys establish a strong online presence, and positions them in front of the people who need their help.
What is the Best Marketing Strategy for Divorce Attorney Client Acquistion?
Developing a solid divorce attorney marketing strategy is tricky, as it is an inherently sensitive and polarizing issue.
However, despite the obvious challenges in advertising to this seemingly elusive and vulnerable audience, many divorce lawyers have their phone ringing off the hook with potential clients seeking help with their divorce case.
Their secret?
The divorce attorneys who are experiencing the most growth in their client base are those who have figured out how to market their law firm on the web.
There are more than 1,300,000 online searches for divorce attorney keywords every month, which means that each month, you have over one million chances to get the attention of someone searching for your services.
However, because the legal industry is one of the most competitive in search, it can be very difficult to get your site to the top.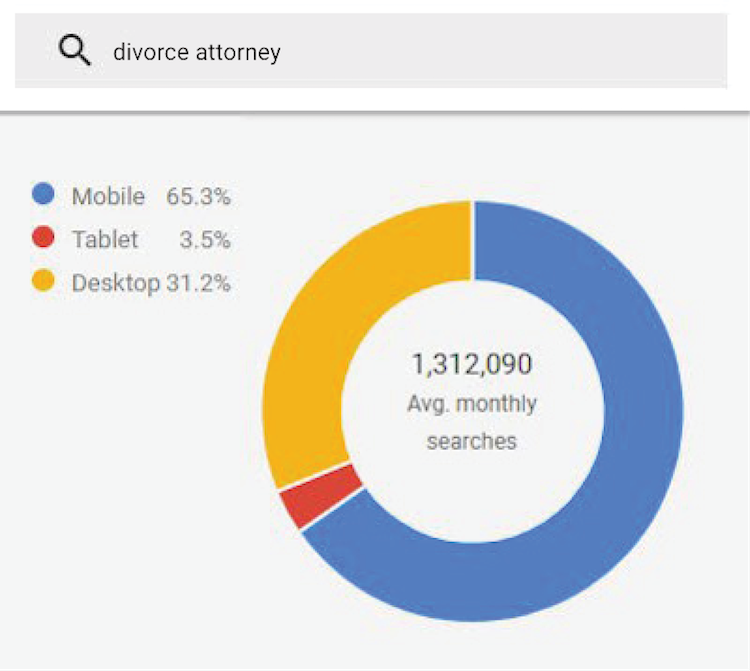 Legal Marketing, It's All We Do!
The team at Law Firm Lead Rocket has the necessary expertise, skills and dedication to get your legal website to rank on Page 1, even in the most competitive markets.
Expertise
Comprehensive knowledge of the legal industry.
Tenacity
Like you, we genuinely love what we do and hate losing.
Flexibility
We're in the business of doing what's best for your business.
Exceptional Online Advertising & Customer Service for Consistent Leads, Stronger Reputations and Brand Enhancement
Are you a divorce attorney struggling to capture new leads from the Internet? Have you worked with online marketers before who have promised the world and failed to deliver? Are you looking for a competent company with comprehensive knowledge of the legal industry that can deliver new leads so you can focus on your practice?
Law Firm Lead Rocket helps divorce lawyers establish a strong online presence, and positions them in front of the people who need their help. We have the tools to take your practice to the next level. No contracts, no cancellation fees. You only pay for performance. Contact us today to learn more.
"These guys are excellent! I'd like to personally thank Joseph for being so friendly and accessible. This team will go the extra mile for your business."
"I definitely recommend this company. They took care of me right away. I would give them 10 stars if I could!  Highly Recommended!"
"Couldn't have asked for a better team to work with. These guys know what they are talking about when it comes to digital marketing!"
Request A Free Marketing Analysis
Let us help your firm take the next step.
Complete the form and we will provide you with a free review along with insights and suggestions about how to boost your law firm's marketing performance and strategy.
Joseph Christoforo
‭(512) 560-4605‬
joseph@lawfirm-onlinemarketing.com